Introducing The New High Protein Iced Coffee
Date:
Wednesday, October 17, 2018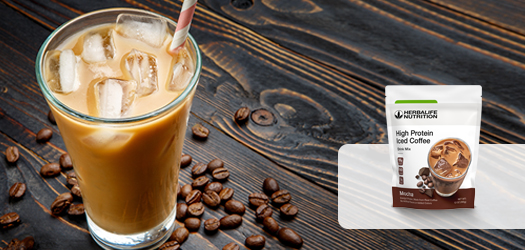 If your mid-morning coffee is an absolute must, you're part of the 64 percent of Americans who drink a cup of coffee every day.
While many coffee drinkers still prefer black coffee in its most natural form, coffee consumption has evolved over the years. Today, the market offers many caffeinated beverages that include sugar, fat and calories, which can offset the inherent benefits of caffeine, such as alertness and a feeling of increased energy. But what if there was an alternative that tasted great, was low fat, quick to make and packed with protein supplementation and energy all in one?
That is the healthy alternative that our new Herbalife Nutrition's High Protein Iced Coffee Mocha offers. Easy to make in seconds, consumers simply add two scoops of the drink mix to water, shake, pour over ice and experience a delicious and nutritious way to power them throughout the day. It is a protein and energy-packed refreshment, and with two grams of sugar per serving, it is a guilt-free, great tasting alternative. One serving prepared with 8 oz. water contains 80 milligrams of caffeine, 15 grams of protein and 100 calories. Compare that to a coffeehouse drink, such as the Cacao Protein Blended Cold Brew prepared with almond milk*, which has much less protein –only around 5 grams or so– nearly 115 calories and more than 12g of sugar.
Energy and protein are top consumer wants, and a recent market report revealed that US consumers gravitate towards ready-to-drink coffee that provides additional health benefits. Our goal is to provide consumers with a coffee drink without sacrificing taste to calories or fat. One of the core pillars of Herbalife Nutrition's nutrition philosophy is the belief that good nutrition can be delicious, which is why we continue to innovate and develop products that provide healthier options for our customers.
Making the healthy choice is easy when the flavor and taste you expect are there. So grab this cold, refreshing alternative for your mid-morning, afternoon pick-me-up or late night sessions to fuel your everyday needs.
by Susan Bowerman